THANK YOU, LUCY!
Thank you to Lucy for the awesome package she sent to me!
I was very excited to find "Kate Remembered" at the bottom of the box of goodies. As I was reading your lovely notecard, Lucy, (with the purple flowers and fluttering butterflies - wow!), and got to the part where you mentioned "Katherine" and "movies", I thought to myself "No! She didn't send me that book on Katherine Hepburn, did she?" And I literally pushed everything aside in the box to reach in and grab that book off the bottom, squealing with delight when I saw that you HAD! Thank you, thank you, thank you! You had no idea that I had wanted to read this book. Noone probably knew that but me. So to see it in the box was just awesome! I also just LOVED the gorgeously crocheted and blocked bookmark in white and lavender. You obviously took some time and care in presenting it. And I love the color of lavender! The extras were just icing on the cake, a skein of yarn, tea to relax with, the beautiful cross-stitch kit of the tea cup scene, the lovely notecard of purple flowers and butterflies with its wax seal and the butterfly imprint in the wax, and finally the "tampon" angel that made me chuckle. I can't say that I rightly knew WHAT to think about that. ha ha!
It was a wonderful package, and I thank you once again for the thought you put into it. I loved EVERYTHING!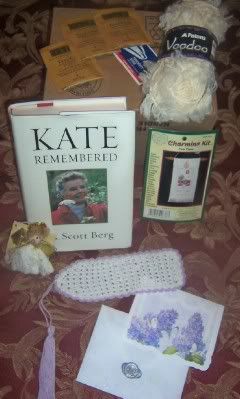 Oh, btw, I am running behind, but I haven't forgotten my package to you! Hopefully I can get it off to you this week! Can't wait!