Thank you Kristyn! :)
Yesterday I received a package from Kristyn!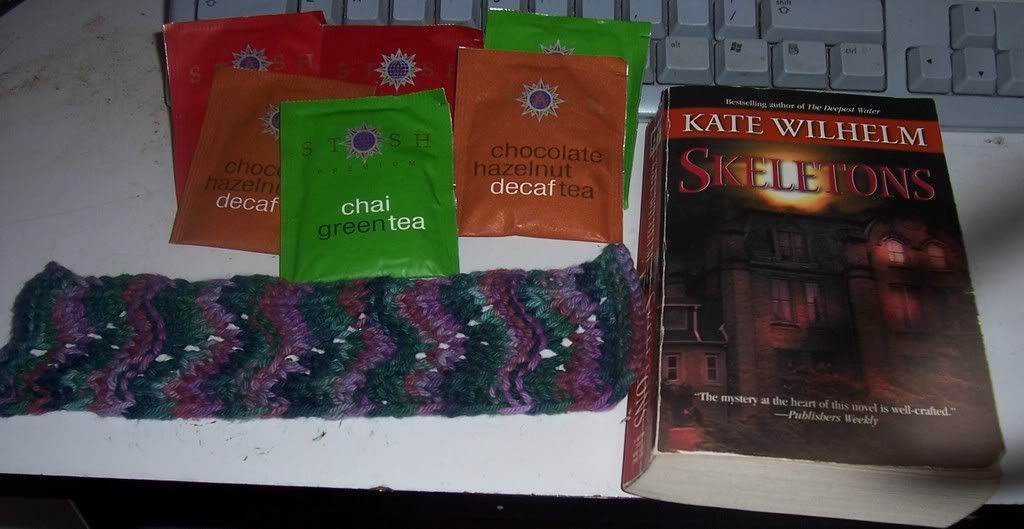 She sent me "Skeletons'' by Kate Wilhelm, some wonderful Hershey's sugar free chocolate (I shared it with the kids....that's why the bag isn't in the photo), some awesome Stash Tea, and a bookmark made with pretty variegated SNC cotton.
Thank you Kristyn!!
The book sounds like a fabulous creepy read! This is what is says on the back cover:
"Lee Donne is an appendix of a family of overachievers. Her mother has three doctorates, her father is an economics genius, and her grandfather is a world-renowned Shakespearean scholar. After four years of college and three majors, Lee is nowhere closer to a degree. With little better to do, she agrees to house-sit for her grandfather.
"But the quiet stay she envisioned ends abruptly when she begins to hear strange noises at night. Something is hidden in the house...and someone is determined to find it. Suddenly, Lee finds herself caught in a game of cat and mouse, the reasons for which she doesn't understand. but when the FBI arrives on the doorstep, she realizes that the house may hold dark secrets that go beyond her own family. And that sometimes, long-buried skeletons rise up from the grave.....''
Oh creepy big time!!! I can't wait to read it!!!
**And Kristyn, I apologize for your package being late. I will have it in the mail on Monday. The teenagers absolutely bled us dry money-wise for the past month, and I didn't have any free cash to spend on postage. Gee, teenagers are expensive! But the summer is here -- no more school fees!!**